The Tweet pictured above captured a conversation between my sons, Anthony (8) and Alex (6). Both kids have been raised in the same household, have shared experiences, and have heard the same messages growing up, with one exception. Alex's kindergarten curriculum included lessons designed to promote growth mindset. He would come home from school very excited following these lessons. He recounted a teacher sharing her experiences while learning how to ride a bike. She fell off of the bike, and shouted, "I quit!" She then tried to ride the bike again and was successful.
Alex goes on to explain (in his 6-year-old words) that there are "ropes" in your brain. "The ropes make connections to the little things in your brain, and when you are a baby to 7, you have so many because you learn so much. The little things talk to each other. And, when you say 'I quit,' then your brain doesn't get strong."
In Mindsets in the Classroom, Mary Cay Ricci informs us that "When students believe that dedication and hard work can change their performance in school, they grow to become resilient, successful students." What Alex described is actually the concept of neuroplasticity, the brain's ability to change and adapt. In chapter 8, Ricci describes similar lessons in which the students become the neurons and practice building connections. Connections (the ropes in Alex's recounting) become thicker with practice and thinner when students give up.
When teachers provide students with the perspective to view failure as part of the learning process and the language to express these feelings in words, kids can start to adopt a growth mindset. Even those that begin with fixed mindsets can change their beliefs about learning. Children's literature provides a safe, low-risk context in which students can express their beliefs about mindset. If you are looking for recommendations for your students, look no further than the following five books. They have shared characteristics, such as characters who persevere, learn the value of positive self talk, and come to understand the value of creativity and originality.
Students of all ages will be inspired by What Do You Do with an Idea? by Kobi Yamada. All of us have had the feeling at some time or another that our ideas are not good enough or that people will think they are silly or worthless. The main character in What Do You Do with an Idea? helps his idea grow and change until he can't imagine life without it. This book would be an amazing addition to classroom libraries at all grade levels.
Peter Reynolds gets growth mindset. And he is able to capture the essence of growth mindset in ways that even the youngest children can understand. In The Dot, young Vashti is discouraged by what she thinks is a fixed ability to draw. How does her teacher respond? "Just make a mark and see where it takes you." This one little dot steers Vashti down a path of growth, in both confidence and ability, providing an example of effort triumphing over ability.
Ish is a fantastic read-aloud to follow The Dot. Unlike Vashti, Ramon loves to draw, until his brother insults his work, causing Ramon to doubt his talent. Good thing that his sister Marisol sees things from a different perspective. She carefully smooths out all of the drawings Ramon has crumpled up and hangs them in her room. Make sure to pick up a copy of this masterpiece by Reynolds in order to find out the meaning of "ish."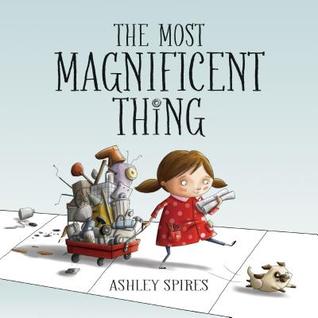 The main character in Ashley Spires' newest book, The Most Magnificent Thing, has an idea to make something special. She builds. She toils. She tinkers. She gets angry. She gets frustrated. Nothing that she builds turns out exactly the way she envisions, even though the neighbors all find her inventions to be useful. Finally, after numerous attempts and failures, she creates exactly what she had pictured… the most magnificent thing.
In Extra Yarn, Barnett brings us the story of Annabelle who thinks her town is dreary, cold, and colorless. Annabelle knits a sweater for herself when she finds a box of yarn. With the extra yarn, she knits one for her dog… and then her classmates…and then the townspeople. Soon enough, the whole town is covered with her colorful creations. Annabelle is met with resistance along the way, but she perseveres with her vision, even when faced with naysayers.
All five of these books would spark conversation in the classroom about two things. In Mindset: The New Psychology of Success, Carol Dweck differentiates between beliefs and mindset for (1) intelligence and (2) personality. (All teachers and parents should take the brief quiz on pg.12-13 to assess whether you have a fixed or growth mindset in each category.) When students believe that effort outweighs ability, the culture of classrooms can change. The climate of schools can change.
Alex synthesized the lesson mentioned earlier by sharing that "You have to keep practicing and trying. If someone says, 'I can't do it,' you say, 'I can't do it…YET.'"
I hope these books promote discussions about growth mindset in your classrooms and households. I'd love to expand this list with your suggestions. Please feel free to leave a comment!
The book is in your court…!
For more examples of what others are reading, be sure to head over to the IMWAYR link-up at Teach Mentor Texts, hosted by Jen Vincent.