Connections.  The mind naturally makes connections between events in life, and a reader's mind makes connections between books and life.
I recently read "How it Went Down" by Kekla Magoon.  The African American victim, 16 year old Tariq Johnson, was fatally shot in his neighborhood. The shooter, Jack Franklin, is white. These facts are not disputed, but almost all of the other facts surrounding the incident are.
On her website, Magoon shared that the story of Tariq Johnson is fiction. "However, the fictional shooting of Tariq Johnson that occurs in my novel is similar in some ways to real incidents of violence that have occurred around the country in recent years. If you follow the real-world news, you may very well recognize some of the issues and discussions that come up between the characters in my novel. Part of why I wrote the novel was to  explore these issues in the context of fiction, in hopes that it might add a new perspective to the important conversations about such incidents." (Magoon, 2015)
Magoon wrote the book in response to media coverage of the deaths of young black men, such as Michael Brown and Trayvon Martin. However, I was reading "How it Went Down" while also watching coverage of the response to Freddie Gray's death in Baltimore.  What causes peaceful demonstrations to turn into rioting, looting, and burning buildings? These are symptoms of deeper issues within the community that Magoon brings out by writing from multiple perspectives, including Tariq's family, his friends, his enemies, and characters from outside of his community who use Tariq's death for personal gain. I won't give too much of the book away, here, but let's just say that you will naturally make many connections to issues that are currently facing our youth.
If I had to choose one word to associate with this book, it would be timely. Many young adults will find that this book speaks to them and their situations. To read more about "How it Went Down," including why she chose to write from multiple perspectives, visit Magoon's website or read this interview from Bookish. I found it fascinating that Magoon deliberately chose not to write from the perspective of Jack Franklin (the shooter) because Tariq (the victim) can't speak. To hear an audio recording of how Tariq's friend Tyrell hears the news, visit the Teaching Books page for "How it Went Down."
I'm currently reading "The Other Wes Moore: One Name, Two Fates" by Wes Moore. The author, Wes Moore, tells the stories of two boys growing up in Baltimore that took two very different paths.  One Wes Moore became a Rhodes Scholar; the other found himself in prison with a life sentence for murder.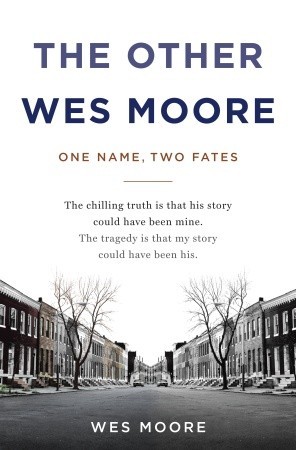 How did this book come to be?  The author was fascinated by reports in the Baltimore Sun about the imprisonment of a man who shared his name at the same time that he was being recognized for his many accomplishments.  The author reached out to the other Wes Moore, who allowed him to share his story.
The connections are startling.  You can hear about them from Wes himself.
Moore shares that he doesn't want to tell people what to think.  He wants to tell them to think. Choices in life have consequences. View the trailer below to find out more about the message that Moore wants to share with this book.  .
A portion of the proceeds from "The Other Wes Moore: One Name, Two Fates" go to the US Dream Academy, an after school and mentoring program for at-risk youth, especially children with incarcerated parents, and City Year, a group that provides resources for targeted schools in which high numbers of students are at risk for not graduating.
As Wes says, "The chilling truth is that his story could have been mine. The tragedy is that my story could have been his." (Moore, 2010)  This also applies to all of the characters in "How it Went Down" and should cause us to pause and think about what we are teaching the youth in our own communities. If we are not using these books as conversation starters, we are missing an opportunity to learn more about each other and how we can do better.
For more examples of what others are reading, be sure to head over to the link-up at Teach Mentor Texts, hosted by Jen Vincent.