Thank you Jen at Teach Mentor Texts and Kellee & Ricki at Unleashing Readers for hosting It's Monday! What are you Reading? Readers across the blogging community share their latest reading experiences, opening new possibilities for sharing the impact of books on our lives.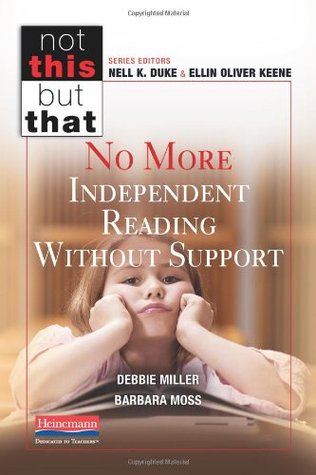 I'm a firm believer in the fact that teachers are learners.  I'd love to see more professional books reviewed in the blogging community.  If you are concerned about the state of independent reading in your classrooms, buildings, or districts, No More Independent Reading Without Support is the book for you!  It's a quick read, and highlights not only what we shouldn't be doing in schools, but the behavior that should replace it. Common practices, such as DEAR and SSR are examined.
How much time do your students actually spend reading?
If shaping real readers is the goal, students have to have time to apply their learning in appropriate texts. If we over-instruct and under-apply, we defeat our main purpose. Miller and Moss worked with teachers to find instructional time that could have been spent on reading. How much time did they find? "Across the grades teachers were able to find an additional 60 to 125 minutes a day!" (Miller and Moss, 2013) The extra time for reading was created by streamlining calendar activities, morning announcements, and transitions, as well as by changing practices within the reading block itself.
Miller and Moss encourage the use of Guiding Principles for Instruction. These include purpose, authenticity, choice, and explicit instruction. The use of these principles can help eliminate reading activities which do not include reading at the heart of the tasks.
It may seem like common sense to make sure kids are actually reading. However I encourage you to take a hard look at your daily instruction and tally the minutes that students actually spend reading. It may surprise you.
How can No More Independent Reading Without Support help you as a reading professional?  You are invited to continue the conversation in the comments.
The book is in your court…