Thank you Jen at Teach Mentor Texts and Kellee & Ricki at Unleashing Readers for hosting It's Monday! What are you Reading? Readers across the blogging community share their latest reading experiences, opening new possibilities for sharing the impact of books on our lives.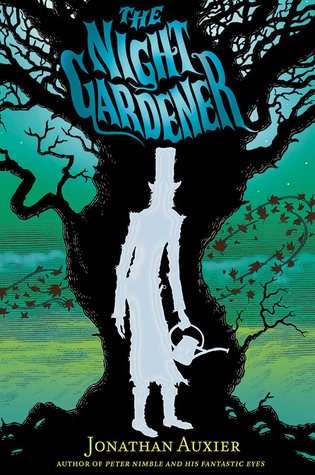 I have finally had the time to finish The Night Gardener by Jonathan Auxier.  Once again, my son started it with me and finished it before me. I mean, lights-on-at-night-when-you-are-supposed-to-be-sleeping kind of reading. Kid-tested, parent-approved.
Teachers- if you are looking for a mentor text for teaching students how to spin a story or weave a web of tales together, The Night Gardener is the book for you.  Part of the draw is its creepiness.  The kids who are reading ghost stories and vampire tales that you wish would read something with a little more literary merit will perk up when they see the cover of this book.  Molly and Kip are two children trying to make their way in the world without their parents.  They find work as servants with a family of four: Bertrand & Constance Windsor and young Alistair and Penny. Something sinister is at work through, and the family- along with Molly and Kip- falls further into despair and ruin.Memorable characters and an ancient curse keep the pages turning.  Storytelling is valued and plays a big role in the book.  The characters learn powerful lessons about what can happen when selfishness and greed take over.
Jonathan Auxier has a gift for bringing readers into his stories and taking them on a memorable journey.  I enjoyed learning more about him through his website, including this little gem for us as readers and writers.  "Whenever I start a new book, I try to put together a soundtrack that makes me feel the way I want the story to make me feel. It's a valuable tool, because at some point I become sick of my own book, and the songs help remind me what I'm aiming for." (Auxier)  The soundtrack for The Night Gardener can be found here. I'm always fascinated by the process by which authors create mood and tone, and Auxier is the first I have found to share examples of using a soundtrack as part of his creative process. I'm putting Auxier's Peter Nimble and his Fantastic Eyes on my list to read next.
I can't wait to hear how this book speaks to you and your students!  The book is in your court…